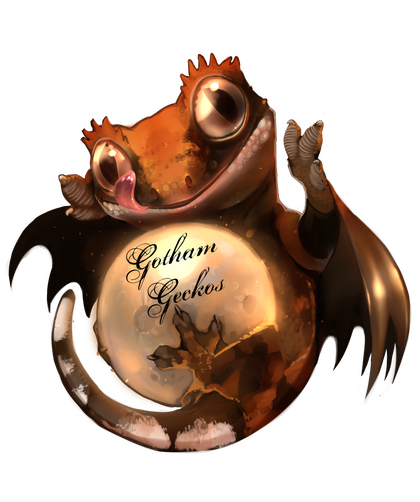 Gotham Geckos
GREETINGS FROM GOTHAM GECKOS
About
Geckos for Sale
Please read our TOSBuy purchasing from us you are agreeing to our TOS.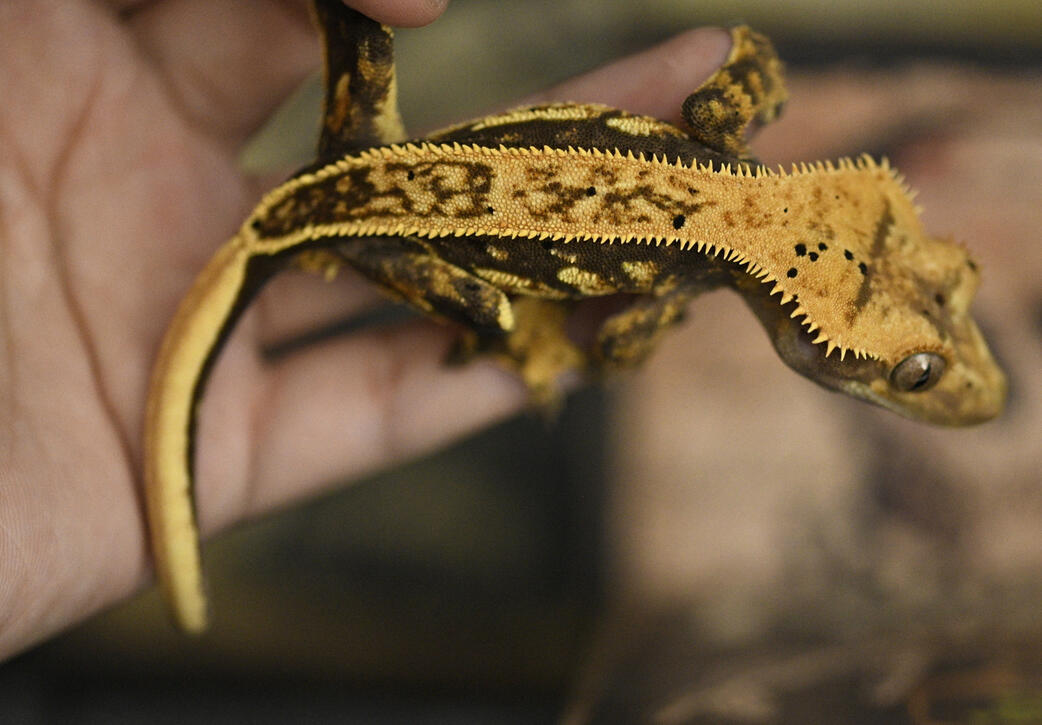 3 Gecko Mystery Pack
3 mystery crested geckos
1 female per pack, will be unrelated to at least 1 male in the pack.All 3 geckos will come with lineage.This is a mystery pack, do not ask for pictures.Price $600 shipped
Some of the geckos that might be in the pack
We Ship Monday thru Wednesday.
If shipping temps are 40 and above in the lows and 80 and below in the highs.
Reptile Merch
I am selling my reptile merch on my etsy page.
Gotham Geckos
Terms of Service
Gotham Gecko's TOS/Shipping Info:
We Require Our Terms of Sale to be Electronically Signed through email and returned to us.Contact Info:
Email:GothamGeckos@gmail.com
Facebook: Facebook.com/GothamGeckosLocation:
New York City, NYPayment Options:
We accept payment through Paypal to the account: GothamGeckos@gmail.com. Paypal enables for the secure use of credit, or debit cards. Please contact us first, before sending payment towards an animal, to be sure that the animal is still available. In the event that payment is sent for an animal that is not available, your payment will be refunded immediately.
We only accept cash for local pickups, and expo sales.We do not accept personal checks.
All animal sales are final.No exchanges or refunds will be issued, except in the conditions outlined below.
Gotham Geckos offers payment plans for geckos over $250. Payment plans are set up over a 30-Day period, during which time the animal(s) will be placed "On Hold" for the buyer and will not be eligible for purchase by other potential buyers. Our 30-Day hold terms are as follows:
"By sending the deposit amount, you have read and agree to our hold terms."30-Day Hold Terms:
Any available animal(s) may be placed on a 30-Day hold upon receipt of a 25% non-refundable deposit of the total (including shipping charges if applicable). Upon confirmation of a deposit being received by us, from the buyer, the animal(s) will officially be marked "On Hold", and we will no longer entertain offers to purchase the animal(s), even if a potential buyer offers a higher purchase price.The remaining balance must be paid in full by 11:59PM est on the 30th day. We do not set up scheduled payment plans. You may pay as much as you like, as often or infrequent as you like, as long as the total balance is satisfied by the end of the hold period. However, if requested we can set up a scheduled payment plan for buyers, if they choose.As payments are received, we will send a message confirming the amount received, as well as the remaining balance owed. Once the total balance is satisfied, the animal(s) will officially be marked "SOLD", and shipment will be scheduled for the earliest available date, based on weather conditions, and the buyers availability to the package.If The Total Balance Is Not Satisfied by 11:59pm est on the 30th day, the animal(s) will be removed from the hold status, and placed back to the available status. All monies collected toward the purchase of the animal(s) (minus the 25% non-refundable deposit fee) will be converted to store credit. Store credit has no expiration date, and can be used toward the purchase of any available animal, but not toward another hold or deposit. The 25% non-refundable deposit will be retained by Gotham Geckos.
Cash refunds will NOT be issued.
Payment plans are offered as a courtesy and convenience to the buyer. The 25% non-refundable deposit covers the cost of care for the animal(s) while on hold and accounts for the loss of income suffered by Gotham Geckos by turning down the potential sale of the animal, while it was being kept on hold. Buyers who place an animal(s) on hold, and do not satisfy the balance by the the date due, will not be eligible to make purchases using a payment plan with Gotham Geckos in the future.
In the event that the buyer does not satisfy the balance by the end of the hold period, Gotham Geckos follows protocols as outlined above, the buyer will not use social media or any other outlet, to speak negatively about Gotham Geckos, for holding to these terms. Actions such as this, will result in negative reviews for the buyer on sites including, but not limited to, The Fauna Board of Inquiry, as well as a potential civil lawsuit. Gotham Geckos will take all necessary steps to preserve their reputation in the reptile community. Again, payment plans are a courtesy and convenience to the buyer, and Gotham Geckos shall see no harm in offering these plans or holding to the terms set in regards to them.
In the unlikely event that the hold animal falls ill or otherwise becomes unsuitable for purchase during the duration of the hold period, the buyer will be notified immediately, the gecko will be removed from the "Hold" status, and all monies collected, including the 25% deposit, will be refunded.Shipping:
Shipping is done through FedEx via Reptiles2you.com. shipping is free, anywhere within the lower 48 states.
For international buyers, we will work with the shipping company you choose. The buyer is responsible for all shipping fees, which are: shipping from Gotham Geckos, to facility in the United States, and whatever the calculated import fee is to the buyer.
Live animals are shipped priority overnight, and are guaranteed by most shipping companies to arrive before 10:30am. However, some areas have later guaranteed arrival times. Delays past these arrival times are rare, but possible. Once shipment is booked, tracking information will be promptly provided to the buyer.
Shipping is done Monday-Wednesday, so that potential delays are less likely to run into the weekend. An adult must be present to sign for the package on the first delivery attempt, otherwise the live arrival guarantee is void. In the event that no one is home to accept the package, and the package is left at the front door or is brought back to the Hub pick up, the live arrival guarantee will be void.
In some cases, packages may be held at a hub, rather than being delivered to a home or office.
Buyers must request this service in advance.
Not all hubs will accept live animal packages, Gotham Geckos will check with the approved hub list provided by Reptiles2You and the buyer will be able to select desired hub location from the list. Hubs may change their live animal policies at any time, Gotham Geckos will not send any packages to a hub, until we have confirmed that they accept live animal packages. Please keep in mind arrival to a hub is often much earlier than arrival to home or office. Packages sent to be held at a hub, must be picked up within 1 hour of arrival at the hub. Failure to pick up the package within one hour of arrival will void the live arrival guarantee.Guarantees
We are currently shipping all geckos to your local FedEx hub.
If you insist on having your gecko shipped to your house during this time
our live arrival guarantee is voided.Live Arrival:
Animals are guaranteed to arrive alive, healthy and exactly as we have described them. If there are any problems with your purchase, including but not limited to death on arrival, we must be notified within 2 hours of the animals arrival. Photographic/video proof of complaint must be provided before a store credit or replacement animal is given.Cash Refunds Will Not Be Issued.Geckos will sometimes drop their tails due to stress. This does not affect the health or breeding ability of the gecko, therefore no compensation will be offered in the case of a tail loss during shipment.Sexing:
Any animal described as male or female is guaranteed to be the specified gender.Animals listed as "probable male" means that we have louped them, and have seen what appear to be pores, however there is no visual bulge present.
Animals listed as "probable female" means that we have louped them, and no pores were visible.
Sex is not guaranteed for probable males or females, because louping is not 100% accurate. We provide this information as a courtesy to buyers so that they can make an educated guess about the animal in which they are purchasing.
Animals listed as unsexed are too small or young to accurately determine gender.General Health:
We offer a 48 hour health guarantee for all animals sold by Gotham Geckos. If you fail to properly feed, house, or otherwise treat the purchased animal, this guarantee is void. In the event of the animal's illness or death, photographic/video evidence as well as a report from a veterinarian of an exam or necropsy, will be required. If the report verifies with reasonable certainty that we are at fault, a store credit for the full purchase price of the animal or replacement animal will be offered.Proven:
Animals described as "proven" have produced offspring in the past.Photographs and records of a particular animal are available upon request.Animal Description:
We do our best to provide the most accurate and up to date representation of the animals we offer for sale. However, it is nearly impossible to guarantee the final adult coloring or pattern of a crested gecko. A gecko's color can change depending on mood, stress, and as it matures. It's pattern can also change as the gecko ages, possibly increasing or decreasing. A gecko can also develop spots over time. Please also keep in mind that colors can appear different from one computer screen to the next.
Contact
Contact us for any inquiries.
For gecko sales you will need to contact us here
to setup a gecko payment plan or gecko purchase.
Breeder Geckos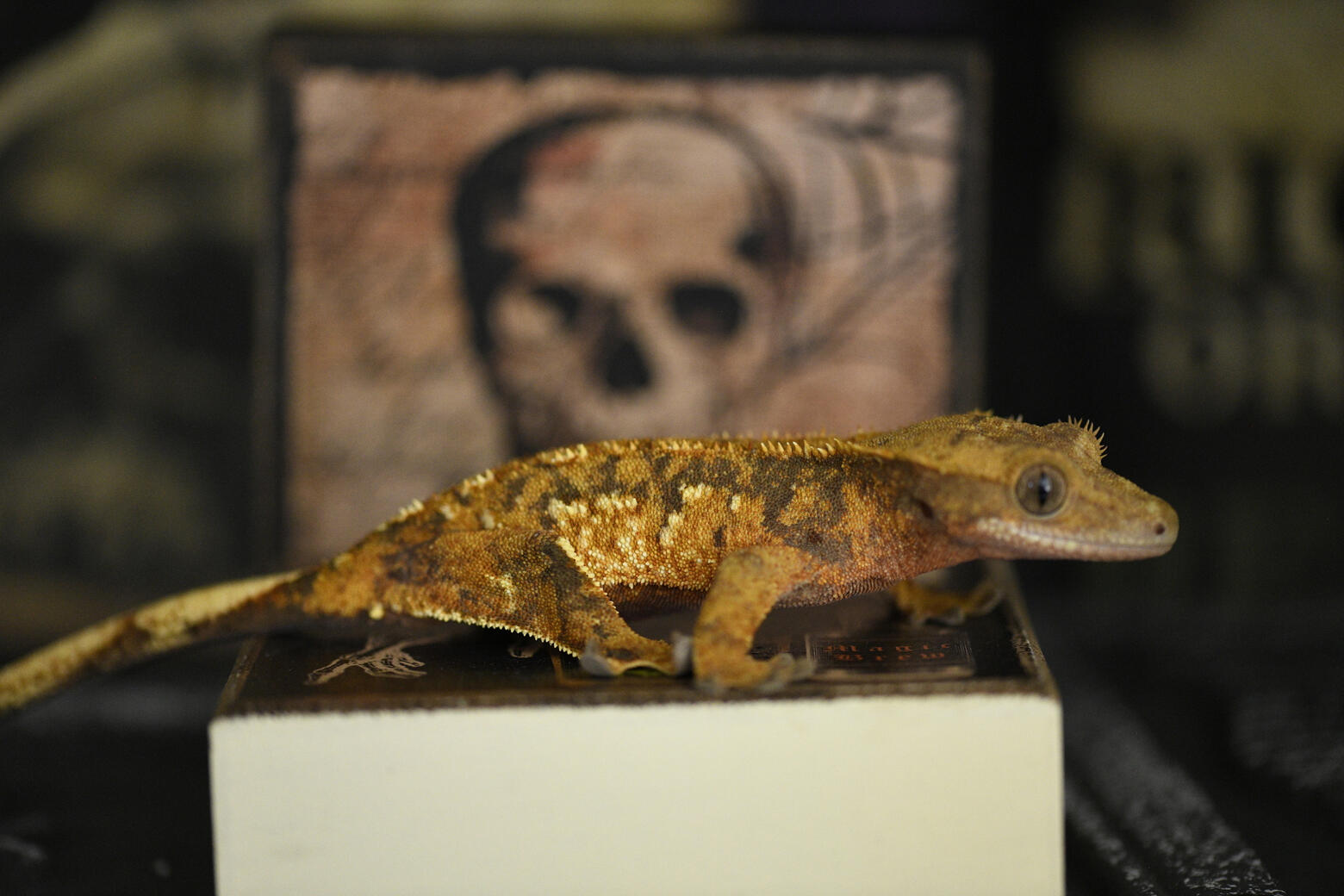 Gotham Geckos is no longer selling diets/supplements online.Please visit Modesty at The Peculiar Dragon for your calcium/supplement needs.